Bubble Automatic Cat Water Dispenser
Spend more time with your pet and less time refilling their dish!
You can now provide a tasty source of freshwater for your dogs with fewer refills thanks to our Bubble Automatic Cat Water Dispenser. This automated pet water dispenser provides pets with continuous access to water, making it perfect for pet owners who lead busy lives.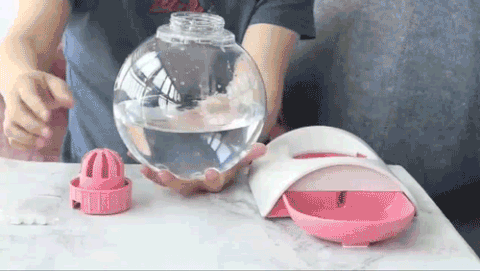 FEATURES AND BENEFITS
Gravity Flow Technology: Like a Cat drink, this self-watering pet dish progressively fills, giving pet owners a longer supply of freshwater with fewer refills.
Fresh Water Anytime: This gravity water dish is ideal for busy pet parents who want to provide their Cats with fresh water whenever they need it.
Better-Tasting Water: As the Cat bowl empties, it is refilled with water, keeping the water fresh in the reservoir until it is dispensed.
Safe: Pets can drink nutritious and safe water at all times thanks to environmentally friendly safety components.
Simple to Remove from the Bowl Base: The top is easily removed from the bowl base and includes a wide-mouth bottle for easy hand-washing.
Large Capacity: The round bubble can store 2.8 liters of water, which is plenty to keep your adorable Cat safe even if you're gone for days.
Package Included:
1 x Automatic Cat Water Dispenser
HOW TO USE WATERER
Simple cleaning techniques include unscrewing the spring port, pouring water into it, and then reinstalling it on the base; the ball and bottom may be twisted and separated, and then rinsed with water. Cleaning once a week is suggested.
SPECIFICATION:
Material: PET, ABS
Color: Pink, Blue, Grey
Capacity: 2.8L(2800ml)
Suit for: Cats, Dogs
Weight: Approx.520g
Function: Water Feeder for Cats
Size: About 11.4*9.1*7.1 inch
High-temperature resistance does not exceed 40 °