Cat Fish Toy – Tinker toy cat
Cat Fish ToyFish Cat Toy will be your cat's favorite toy ever! It moves, floats, and is cute! Made of high quality.
This Fish Cat Toy is perfect for interacting with your cats and playing fun.
Interactive Cat toys – Cat Fish Toy
Inspired by real fish, our Cat Fish Toy will keep your cat entertained and active while they play. The fish moves back and forth, sending out ripples in the water that are certain to bring out the hunter in your feline!
This toy is both fun to play with and attractive, as it lights up at night, making it easy to spot in a dark room.
So you can enjoy fishy fun for a long time before changing the battery. The Cat fish toy is made of a durable non-toxic plastic that will withstand biting from even the most active cats.
Features Tinker toy cat:
Stimulate Your Cat's Instincts: By engaging your cat's natural hunting instincts, these interactive cat robot fish toys are a terrific way to get them enthusiastic for fun. They're also a great method to get them to try out some new aquatic sports.
Automatic Swimming Feature: Our cat fish toys include automated robotic fins that start moving around as soon as they're placed in the water. When you take them out, they switch off automatically to save energy.
Built-in Flashing Led: Each of our swimming robot fish toys includes built-in LEDs that flash when activated, as well as swimming fins that move. It's ideal for attracting your cat's interest and encouraging them to interact with the toy and water.
Precautions for use:
Check that the battery cover waterproof pad is in a decent position, that the screws are fastened, and that the fish's tail is not pulled during usage before using. Remember to take the little fish out of the water and wipe it dry after each usage, as well as the battery, which should be stored in a dry area for future use!
If the fish has water in it, don't worry; simply remove the battery cover and remove the battery, wipe away the water stains, and replace the new electronic fish once the fish has dried!
Replace the button batteries without reversing the positive and negative polarity; if the fish has been exposed to water, wipe it out before changing; verify that the waterproof pad is solid and fasten the screws to prevent water seepage.
Electronic toys such as little fish are not equivalent to actual fish. Please do not submerge them in water for an extended time. They are likely to do them harm, and extreme instances can result in irreversible harm!
Reminder: Before placing the screws in the water, make sure they're tight.
It is impossible to stop the water from entering owing to the screw if the fish does not swim or light up.
SpecificationTinker toy cat:
Material: Plastic
Powered:2 x LR44 (A76) Button Batteries.
Swim Mode: Fast>Mid>Low.
Is Smart Device: NO.
Applies to: kitty, Cats, kitten.
Features 1: Interactive cat toys for Cat kittens.
Features 2: Cat Toy Fish
Features 3: Automatic cat toy
Type: Cat toys interactive, Fish Cat Toy, Electric Cat Toy.
Package Includes: 1 Toy Fish
Frequently Asked Questions
Q: What is the best way to get the most out of my battery?
A: If you remove the toy from the water after 3-5 minutes of use, the batteries will last longer. If used continually, the installed batteries will last around 20-30 minutes. We recommend placing 2 fish in the water, letting your cat play first, and switching it with the other 2 fish after 3-5 minutes, to maximize the battery life.
Q: What type of battery do you use? What is included in the package?
A: LR44 or AG13 battery. Some of the Robot Fish already have 8 LR44 batteries installed and another 8 EXTRA batteries for replacement. A battery installation tool is also included; however, the bowl is not.
Q: What is the location of the on/off switch?
A: Water activates the robot fish. There is no way to turn it on or off. When a fish is placed in water, it will automatically begin to move and will stop when it is removed from the water. If the problem persists, clean the fish with a dry towel.
Q: Can the flashing light be turned off while running
A: a no
Q: Do you want to kill the cat? If my cat could capture fish from the tank, he ate them. Will he eat mechanically?
A: It's not a break to eat plastic. Just can play and everything
Q: Eita… Which sound fish?
A: No noise
Q: How many fish
A: One fish
Q: How many fish in one order? 
A: One fish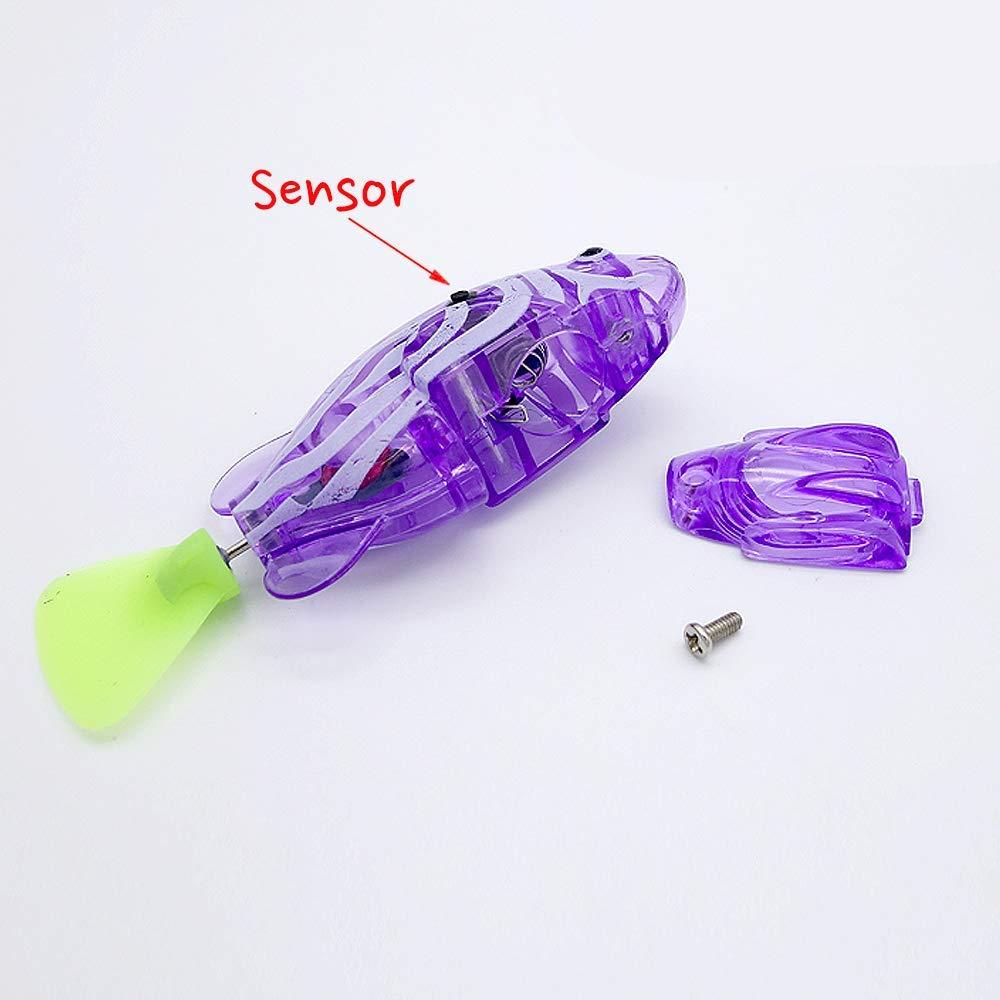 Cat Fish Toy
is new and high quality. It is made of durable material, safe and reliable to use. Interactive toys make your cat exercise more and happier. It's time to buy one for your
Cat
!
Your cat will love Fish Cat Fishing Toy. It's designed specifically to provide the ultimate fun and entertainment for your kitty. Watch as your cat becomes captivated by Fish Cat Swimming Fish Electronic Toy.
You will love our Cat Fish Toy. The perfect gift for any cat.
The Cat loves to chase and a fish toy helps to keep your pet cat healthy and active.