Cat Toy Fish – Interactive Cat toy
Have you ever seen your cat's nose twitch when something moves?
Our fish cat toy offers to move. Your little hunter will love our fish!
Allow your cat to partake in the excitement of catching fish.
With this Cat Toy Fish, you can have countless hours of interactive enjoyment. This adorable tiny toy swims in the water, and your cat will be enthralled by its movement — our Cat Toy Fish is sure to liven up any home!
See your cat try and catch the elusive and erratic fish with the Cat toy Fish, an interactive floater toy that allows you to indulge in-game with your cat! Each crinkle sound made by your pet's paw or nose gives cerebral stimulation, making it an excellent feline friend.
Interactive Cat toy fish – Swimming Cat fish toy
Features Tinker toy cat:

A high-quality robot fish toy is made of high-quality plastic, safe, non-toxic, and harmless to the human body, ensuring pet or kids' safety to play. Green and pink are the two hues available.
Built-in flashing LED Our swim robot fish toys include built-in LEDs that illuminate when they're triggered, as well as moving swimming fins. Two-button batteries are used to power it (included).
Design that is activated by water Automatic robot fins is built into the electric fish toy. They will begin to move around as soon as they are immersed in the water. To save energy, it will switch off automatically after it is removed from the water.
Fish with a High Simulation Level The tail of the fish may swing around like a real fish in the water. There are flashlights on the head of the fish while swimming. This electric fish toy will delight both your children and pets.
Bath Toy The electric fish toy with LED light can swim in any water place at home, like a sink, bathtub, or even in the swimming pool. It's a fun pet toy that would also make a great present for your kids.
Cat toy fish is the best Cat fish toy on the market which will provide your furry friend with hours of fun as it chases and bats at the fish around in the water.
When petting fishes, smelling the smell of the water can reduce pet nervousness, making the family become more harmonious; in addition to that, you can paddle fishes through the water.
The fish toy is a massager for cats. Cats need physical exercise every day. Pet toys will make them stay healthy and physically fit!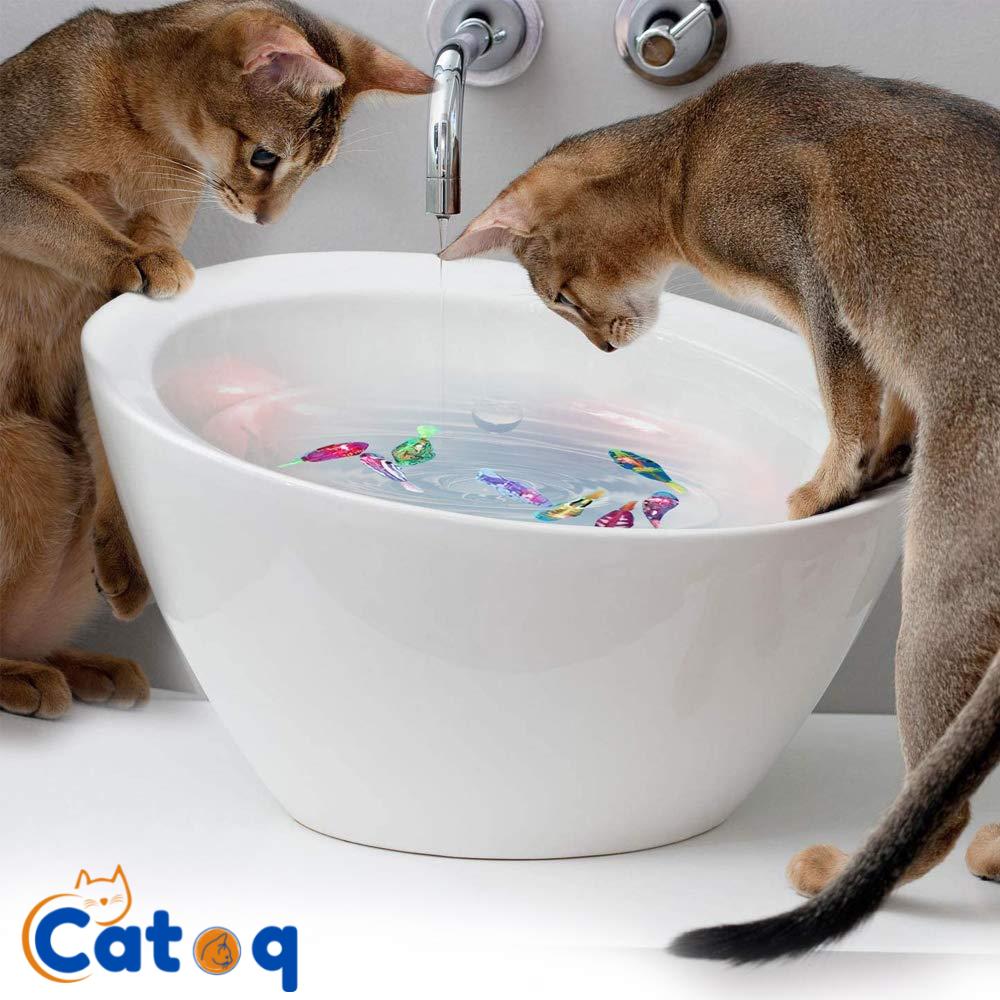 Precautions for using Fish Tinker toy cat :
Check that the battery cover waterproof pad is in a decent position, that the screws are fastened, and that the fish's tail is not pulled during usage before using. The little fish swims with its tail between its fins.
Because the tail copper wire is broken, the small fish is unable to swim! Remember to remove the little fish from the water after usage, wipe dry, remove the battery, and store it in a dry location for future use!!!
If the little fish becomes wet, don't worry; simply remove the battery cover and remove the battery, wipe away the water stains, wait for the fish to dry, and replace it with the new electronic fish!!!
Without changing the positive and negative polarity, replace the button batteries. If the fish has been exposed to water, clean it before reinstalling it; check that the waterproof pad is firm, and tighten the screws to prevent water seepage.
Small fish are electrical toys that are inferior to actual fish. Please do not leave them in the water for an extended period of time. It is simple to harm little fish, and in a bad circumstance, the small fish will be irreparably damaged.
Specification Fish Tinker toy cat:
Material: Plastic.
Powered: Button Batteries – 2 x LR44 (A76).
Mode Swim : Fast>Mid>Low.
Applies to: Kitten, Cats, Kitty.
Features: Automatic Cat Toy Fish.
Type: Cat Toys interactive – Tinker Toy Cat.
Package Includes: 1 Fish Toy
Note
The picture may not fully represent the item's real color due to variances in displays.
Due to variations in human measuring, please allow for minor dimension deviations. Thank you for your time and consideration, and please accept my warmest gratitude.
The cat toy fish is a terrific method to keep your cat occupied and entertained for hours.
The cat toy fish will twist and turn, change directions at random, back up, and swim away from your cat, providing plenty of exercise and entertainment for her.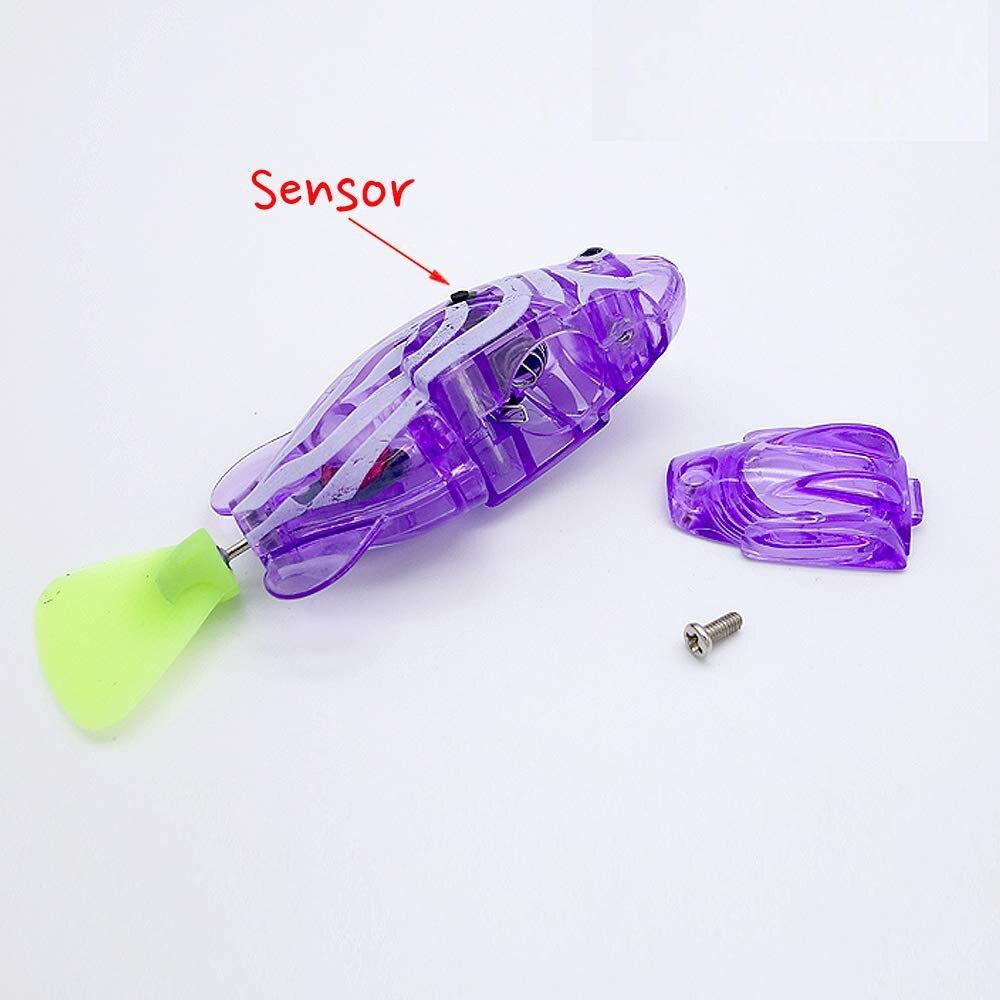 The Cat Toy Fish is an autonomous indoor cat toy that allows you to prepare your cat for a day of fun with their feline buddies.
These interactive robotic toys let your kitty feel like it's catching fish in the real world. Your dogs will be kept occupied for hours.
It's the ideal present for your beloved Cat and the finest method to provide hours of entertainment.
The Cat loves to chase and a fish toy helps to keep your pet cat healthy and active…