Cat bed with inside cushion
Are you seeking the best place for your cat to sleep?? Look no further than this cute cat bed?
This cat bed is exactly what a cat in need of comfort!
This Cat house is the ultimate sleep spot for your pet. It keeps them comfortable, safe, and cozy at night, during the day, or whenever you need a break.
Look after your cat's health with the help of this pet bed. It's easy to keep clean and is also very comfortable for your beloved pet! With a high-quality faux sheepskin liner and inside the cushion, it will keep your cat nice and snug. Only use this item inside.
This cat cage was created by the designer as a kitten bed for a really attractive cat home. This cat's pet item, I feel, will appeal to you.
With a Cat House like this, your home will have an extra landscape.
Features:
Warm, dark, safe, and won't be disturbed, according to the cat's traits.
In the cat litter, there will be a mat. When the weather gets hot, this mat may be taken off by itself. When it's hot outside in the afternoon, the cat may also relax on the soft cushion outside the nest.
Excess noise is absorbed completely by a thicker sponge.
The anti-skid bottom is set in place, making movement impossible. It is wear-resistant, sturdy, waterproof, and moisture-proof.
A fully enclosed arc-shaped ceiling provides complete security for pets.
Fine workmanship, cat ear shape, cute appearance.
The pad is removable and washable.
The stuffing is composed of high-quality PP cotton, which is softer to the touch and keeps you warm when it's cold outside.
To prevent squeezing deformation and damage during shipping, the most current vacuum packaging is used.
I will give you the pet nest in pristine shape.
We promise that the pet nest will be of good quality, that it will not be too thin, and will not make the cat feel cold.
Specification:
Cute Fashion Ear Cat House
When the cat discovers this nest, it will immediately settle down in it.
Litter is removable
Come well packed
Type: Cat bed with inside cushion
Cave: Velboa
Cushion: PP cotton
Breathable, Detachable, and comfortable
The surface is constructed of a soft and breathable short fiber material.
Antistatic, no hair removal.
The PP cotton pillow for older citizens. Full, fluffy, durable, and breathable
Strong performance.
Pets should have access to temperature, comfort, and seclusion.
It's a great place for cats to play, rest, and relax.
It has dual-use capabilities and superb craftsmanship, as well as being soft and comfy. It has a lot of breathabilities.
Note:
There is a tiny mistake due to human measuring; please accept our apologies! Because dogs come in a variety of shapes, make sure you get the proper size.
Size :
M:33 x 33x 35cm – 12.59 x12.59×13.77inch – approx.4kg for pets.
L:36 x 36 x 40cm – 13.77 x13.77×15.74inch – approx.6kg for pets.
XL:39 x 39 x 40cm – 14.96 x14.96×15.74inch – approx.12kg for pets.
Package Includes: 1 x Cat bed with inside cushion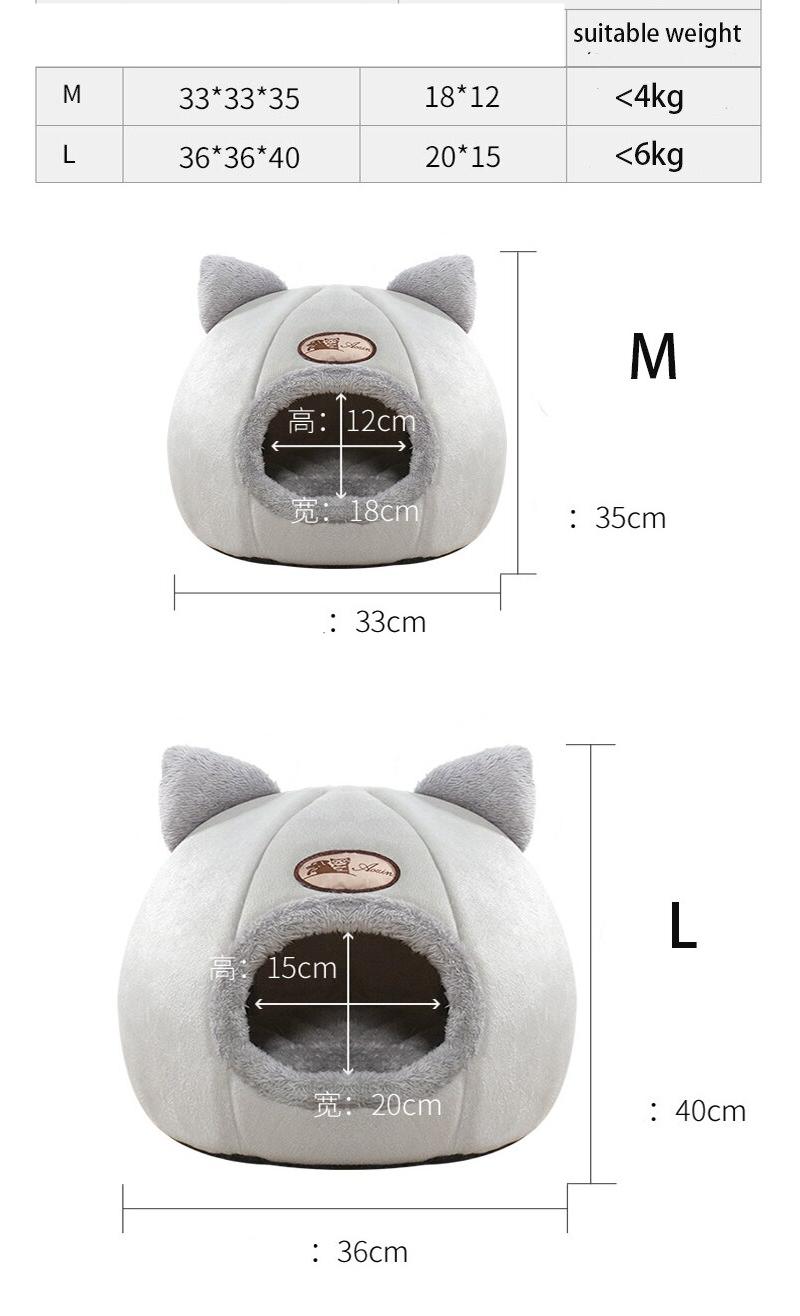 The lively nature of the pet is complemented by the soft and charming cat ear design.
The semi-enclosed design creates a gloomy environment to protect pet safety.
Although the anti-skid bottom is durable, waterproof, and moisture-proof, it is difficult to move.
The delicate, comfy, soft, and warm velvet fabric has a short length.
Questions & Answers
Is it true that if the cat climbs to the top, the top sinks?
Yeah, it's soft.
What size should I get for a 5,5 kg cat?
Take the biggest one, I got it, It's very good leg 6 kilos cats.
What size is best for you if you have a cat that is 2 months old?
The suitable size is 32x32x35.
What means self-heating? Have any batteries? Has electric heating or solar?
No, I'm referring to the fictional fur cushion.
What type of home does a three-year-old Scottish cat, weighing around five kilograms, require?
I believe that a range of 40 to 40 will be ideal. I have a 6-kilogram Sphinx for him, but it's only a temporary residence.
The size 33x33x33 is for an adult cat?
Yes, excellent.
For a six-pound cat which is long, what size do you advise me?
I'd get the huge one because my cat is four kg and I got the medium.
Looking for the perfect place for your kitty to sleep? Look no further than this cute Cat bed with an inside cushion.