The Kitty Hammock Indoor Cat Hammock
Domestic cats are similar to their wild counterparts in appearance. Both like sleeping quietly on a high vantage point from where they may calmly and securely watch their surroundings.
The Indoor Cat Hammock is designed to simulate a cat's natural lounging habitat, providing them with the same comfort and confidence they would find in the wild, but with the added convenience and safety of being indoors.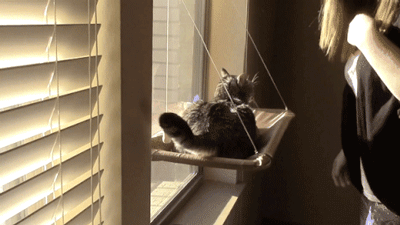 A natural lounging setting – Cats like being elevated and looking out over their surroundings. This offers them a sense of safety, which can help to lessen pet fear and boost confidence.
Passively stimulate your cat – In addition to sleep, cats require adequate visual stimulation. Your cat will get a front-row view of nature with the Indoor Cat Hammock, which will passively engage their hunting instincts and keep them amused while you're working!
Remove enormous cat furniture – The Indoor Cat Hammock's sleek and simple design can help you conserve space and remove clutter by removing bulky cat furniture. This product is ideal for cat owners who live in condominiums or flats, or who just need a little extra room in their house.
Protect your walls – Unlike other DIY (do-it-yourself) cat shelves, the Indoor Cat Hammock is easy to set up and does not damage your walls!
Easy Assembly & Disassembly – In 5 minutes or less, you'll have the Hanging Kitty Hammock up and running with a very happy kitty! It works on almost any window and can be taken down or moved just as easily!
If your cat has an accident on the Indoor Cat Hammock, unlike other cat hammocks on the market, our detachable material is machine washable, so you and your cat will be back in action in no time!
Specifications:
Material: PP, PVC, Oxford
Size: 55*35cm
Load: about 20kg
Color: Blue, Green, Purple, Khaki
Package Included: 1 x Cat Hammock