Cat Bowl Feeder Double Bowl With Water Bottle
1 feeder bowl with a capacity of 1.3 lbs. Two plastic bowls, one plastic dish with a water bottle that automatically fills. Whether you are at home or not, it will automatically replace the water in the dish and keep the water clean. Medium and small pets are welcome. This present will be appreciated by your little pets; try our particular water and food dish set for your young cats.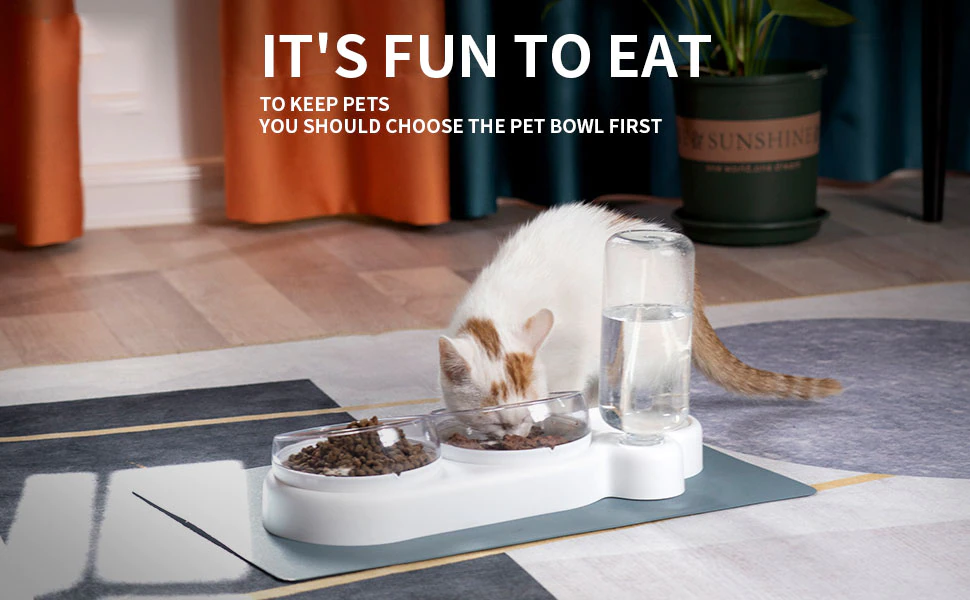 Reasonable bowl height relieves stress on cats' necks, joints, and backs provides the optimum seating position and is suitable for a variety of cats. The Cat dish is the finest choice for your Cats since it allows for simple feeding and comfortable licking.
Siphon concept, constant water level management, and automated water delivery An automated water dispenser might automatically refill the dish with water and keep it full. When you're not at home, this design is ideal for your adorable kitties (changing the water once a day will help your pet drink more healthily!).
Make the bottle's cap fall down, then overturn the full bottle and place it in the little groove before pressing the bottle's bottom. The water dish will overflow with water. Please do not fill the water bottle with hot water.
Your pet's safety is the same as mine, thanks to an environmentally friendly PP resin liner bowl, a food-grade PP bowl, and a food-grade PET level.
Cat food bowls are also convenient to add food or water due to their user-friendly separation design, detachable parts, and simple structure. It's easy to take it out to wash and keep clean.
Package included:
Cat Bowl Feeder Double Bowl With Water Bottle