Mesh Cat Shower Bag – Restraint For Anti Scratch
A happy cat is a well-groomed cat!
Every pet owner, without a doubt, is aware of this. But why do people dread grooming day for their cat (nail clipping, washing, brushing) so much? You've probably already worked out the answer if you're the owner of an adorable little kitten.
Indeed, you may have begun to recollect the times when your beloved kitten transformed into a small beast, scratching your arms and begging you to remove her from the water. Not because she disliked cleaning, but because they dislike water in general.
Features – Mesh Cat Bathing Bag:
Hood design can prevent cats from biting you. Remember not to fasten the drawstrings too tight, make sure cats feel comfortable.
Retractable drawstrings can fit cats of different sizes, and they prevent cats from escaping.
Mesh material is transparent, thick and solid, sturdy and robust, and soft and comfy.
scratch- and bite-resistant, as well as long-lasting Excellent air permeability; drains and dries quickly.
Easy to change the size of the lips using buckle fastening tape.
Handle helps you reposition the cats easily.
smooth zip closure, easy to use.
Specification:
Material: Polyester.
Color: See the picture.
Specifications: about 33-50cm
Suitable for: cats weighing less than 7.5kg.
Package includes: 1 wash the cat bag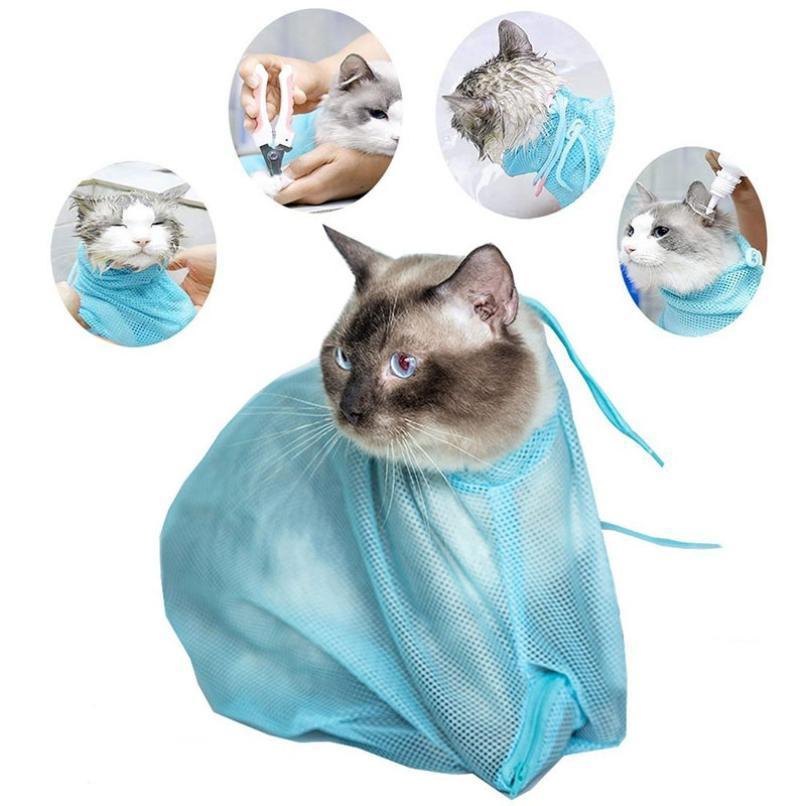 Note:
1. Make your cats familiar with this bag first, let them know that it will not harm them.
2. Don't fasten the drawstrings too tightly, make sure both you and your cats feel comfortable and safe.
3. Cats are always afraid of water and resist bathing. So we as cat owners should treat them more patiently.
What you'll get:
The elastic mesh may be adjusted to keep your cat comfortable and prevent discomfort within the bag. You can choose to leave the head out but keep the rest of the body inside for cleaning, or you can remove the legs for nail clipping (the zip on the bottom side can be opened). For your cat, kittens, and pups, this is the perfect grooming bag.
HOW TO USE:
Roll up the sack, pet the cat, and give it some time to relax.
To tighten the strap, expose the cat's head from the front aperture.
Place your entire body in the bag and then pull the back drawstring tight.
Open the zipper and take out the paw one at a time to cut nails.
Apply the bath lotion on the surface of the bag to foam and start bating.
Cats can start bathing, cutting nails/applying medicine/and feeding medicine.
Dry cat and bag together with your dryer.
Easy to use:
Roll up the sack, pat the cat, and allow it some space to unwind.
Place your full body in the bag and tighten the drawstring at the rear.
Tighten the strap by exposing the cat's head via the front aperture and tightening the front aperture.
Benefits of Mesh Cat Washing Bag:
Our mesh cat grooming bag, on the other hand, will keep you and your kitty safe from harm. How? Well, it can be used as a cat restraint bag that can keep your kitty's legs within and allow you to bathe it like a pro vet.
This top-performance mesh cat grooming bag is perfect for bathing, ear or eye cleaning, brushing teeth, and nail trimming. It can also assist you in quickly administering oral medicine or injecting the cat.
This cat bathing bag makes brushing your pet simple and enjoyable while protecting you from sharp scratches.
Drawstrings on the front and back restrict cat teeth, and the front and back claws protrude out to scratch humans; the middle drawstring for a better fit.
Zipper makes removing one paw at a time, cleaning paws, and trimming nails a breeze. Cats can easily go in and out due to the large entrance. You have the option of wrapping or stretching your cat's limbs. A good design will keep your cat from clawing you while also making her feel less oppressed.
Mesh Cat Shower Bag It can help your cat take a bath easily at home and take the cat to the pet salon without spending extra money. Let the cat feel at ease and calm.
Mesh Cat Grooming Bathing Bag covers all of a Cat's body, and there are no gaps. Restraint bag for cats, scratch-resistant, bite-resistant, durable, easy to drain and dry.
ALL YOU NEED IS A CAT BATHING BAG.
It's for everyday grooming, nail trimming, ear cleaning, anti-bite, and anti-scratch for cats.
The mesh pattern may be cleaned by immediately coating it with shower gel or used to dry the hair.
Scratches and escapes are prevented by the shrink hole design.
MULTI-FUNCTION: Examing Eye – Drops Nail – Trimming Ear Cleaning
Mesh Cat Shower Bag is a great product for any cat lover, makes the grooming session easy and comfortable for your feline while keeping you safe from all the rough scratches.