Cat Brush Hair Removal Comb Grooming
If you have cats, you've definitely tried a variety of combs and brushes to keep their fur from going all over the place. This cat brush works so effectively because it can remove loose, dead hairs from the undercoat that other brushes can't.
Take care of the source of your cat's fur problem before it spreads throughout your home. Because of the brush's unique self-cleaning mechanism, cleaning takes only around 10 seconds. With a single touch of a button, any Removing Cat Hair from the brush may be removed, making brushing time simple, pleasant, straightforward, and clean.
Cat Brush for Shedding
Cat Brush Hair can easily manage loose hair, filth, and tangles in your pet's fur, massage your pet's fur and increase blood circulation. This comb will be more effective, especially if the pet's hair is long and tangle-prone. Hairy pets, such as dogs, cats, and rabbits, will benefit from this product.
Safe and comfortable bristles
The cat brush is gently bent and designed to clean deep beneath the pet's fur. Massage particles will not irritate your pet's skin and will provide a fun and enjoyable aesthetic experience for your pet.
Self-cleaning needle comb
Press the cleaning key after brushing the hair with the pet brush to remove any remaining hair on the brush. It just takes around 10 seconds to clean the smooth brush thanks to its unique self-cleaning mechanism. This reduces the amount of time and energy spent combing and cleaning.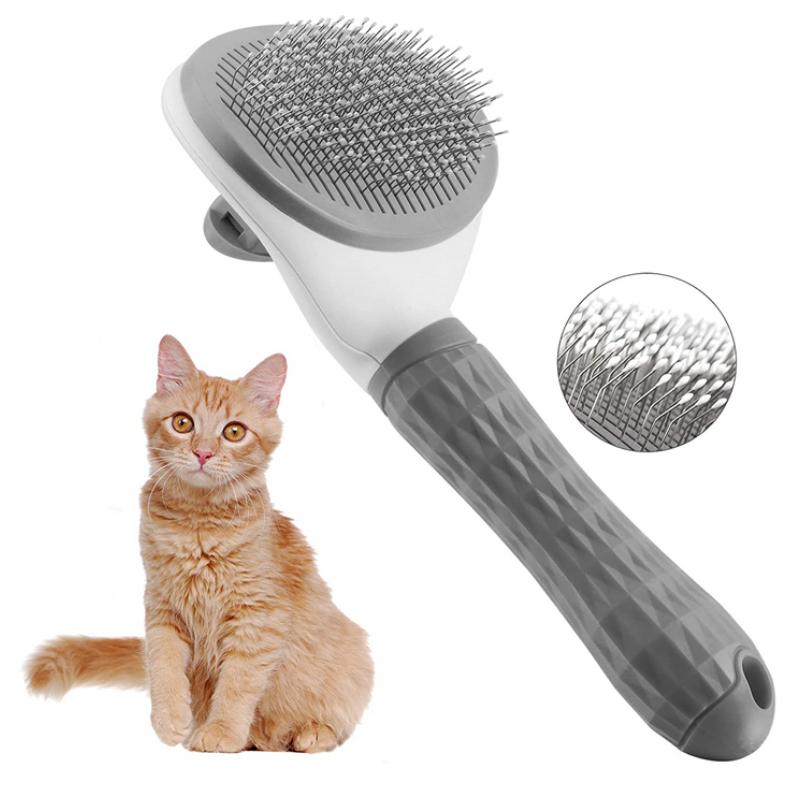 The anti-skid durable pet brush handle
The handle of the dog and cat beauty brush is designed to be soft and ergonomic, with an anti-skid texture to relieve hand pressure. Brushing your pet for any length of time will help avoid hand and wrist strain.
Cat massage brush:
The pet Slicker Brush rubs your pet's fur, which helps to avoid skin disorders and improve blood circulation while also making it smooth and glossy! Brushing your pet is a fun thing to do! Pet owners, vets, and professional beauticians all highly suggest it.
Developed For Better Cat Brushes
Easy control is provided with a non-slip ergonomic comfort grip made of silicone and thumb rest. The round bead shedding brushes may be used to massage your dogs and prevent them from scratching their skin. Stainless steel needles with a 60-degree bend and moderate flexibility are effective at preventing skin illness and improving blood flow.
Ergonomic Extended Handle
A long, comfortable grip with non-slip material reduces hand strain regardless of how long you brush your pet!
Stainless steel needle
Static electricity is avoided, skin is not harmed, memory gentle needles are used, deep cleaning is done with acceptable needle spacing, and no uncomfortable care is required.
Safe & Comfortable Brush
The bristles are thin bent wires that brush your pet's undercoat effectively without scratching his or her skin.
Self-Cleaning Button
The bristles retract with a single click, making self-cleaning and storing a breeze.
By pushing the button, you can effortlessly clean residual hair out of the brush after grooming, saving time and energy.
Easy to Clean
Cleaning is as simple as pressing a single button. Simply push the clean button to retract the bristles and wipe away the hairs. and the hair will be readily removed from the brush And because our cat brush is washable, it can be kept clean.
Comfortable Non-Slip Handle
No matter how long you brush your pet, our Slicker Brush is built with a comfort-grip and anti-slip handle to reduce hand and wrist strain! The handle is built of high-quality materials and is pleasant, sturdy, and long-lasting.
Self-cleaning function
Hair removal is simple with a push plate and a key. "Complete" the little slacker in a hardworking life
Enjoyable Brushing Experience
Pet grooming can help you and your dogs communicate better and form a stronger relationship. Our brush is ideal for all coat types and breeds. Your favorite pet will appreciate grooming time with our plucking brush for
pets
This brush is perfect for your cat's hair. It has a rubber grip handle for easy handling and stainless steel bristles that are durable and safe for your cat. The bristles are also gentle on your cat's skin and will not pull out their hair. This brush will make brushing your cat's hair quick and easy.
Package Includes: 1 Cat Brush Hair